Smoldering multiple myeloma was first defined in 1980 by Drs. Kyle and Greipp as "an asymptomatic plasma cell disorder." The annual risk of progression from smoldering myeloma to symptomatic multiple myeloma is 10% per year for the first 5 years, 5% per year during the following 5 years and only 1% per year after 10 years.
But smoldering myeloma don't know if or when they will progress to active myeloma. The unknowns have led to a smoldering myeloma "standard of care" - observe until it progresses to active myeloma. Currently, treatment is only available through clinical trials.
Dr. Maria Victoria Mateos, Director of the Myeloma Unit at University Hospital of Salamanca, Spain presented this topic at the Charlotte Inaugural Plasma Cell Disorder Congress this month. She is renowned for her research in Smoldering Multiple Myeloma (SMM) and believes that high risk smoldering myeloma should be treated.
When to Treat Smoldering Myeloma
While many myeloma specialists want to treat High Risk Smoldering (HRSMM) patients early on before the disease becomes more genetically complex and/or causes end organ damage, they also have an oath to uphold ("First, do no harm"). This requires they not over-treat other patients and expose them to treatment-related toxicities.
Hence, the search for independently validated biomarkers that identify who will rapidly progress to active disease. The intent is to separate the 50% of high risk smoldering myeloma patients who are likely to progress to active myeloma within 2 years from those who will take much longer, if they progress at all. The challenge is also to create Risk Stratification Models utilizing these factors that can serve as treatment guidelines.
Two models come from the newly Revised Mayo Clinic model (incorporating the revised 2014 International Myeloma Working Group [IMWG] myeloma diagnostic criteria) and the Pethema Spanish Myeloma Group.
For the first time, the IMWG is presenting a smoldering myeloma Risk Score Tool that also incorporates high-risk genetic features (Cytogentic Abnormalities, or CA).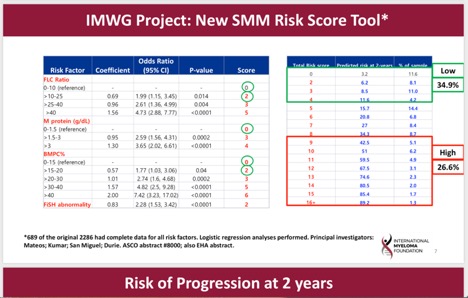 Dr. Mateos concludes that:
Management of smoldering myeloma should be risk adapted
She would treat smoldering myeloma for patients with a 50% progression risk at 2 years. This is based on the 2/20/20 model or 2/20/20 plus CA = HRSMM
She finds other models feasible if they identify patients with a progression risk of 50% at 2 years.
How Should Smoldering Myeloma be Treated?
A benefit to early intervention?
The first randomized clinical trial for high risk smoldering myeloma patients (the QUIREDEX study by the Spanish Group) compared lenalidomide/dexamethasone to Observation. Long-term results published in 2015 suggested that this combination improves both time to developing myeloma and overall survival (OS) for patients with high-risk smoldering myeloma over observation only. However, there were patients who were not screened with advanced imaging, and the results were not able to isolate the benefits to lenalidomide.
One very important finding of the Spanish trial was that early intervention with treatment did not cause more resistant relapses.
Building on the Spanish trial, an ECOG study compared Lenalidomide only vs. Observation in smoldering myeloma patients. This study included intermediate risk smoldering myeloma patients. At the 2019 ASCO meeting, Dr. Sagar Lonial presented the results of this phase III study, which is the largest randomized trial in smoldering myeloma to date.
Below are the study results with follow-up of 35 months for 92 patients. PFS is Progression Free Survival.
| | | |
| --- | --- | --- |
| | Lenalidomide | Observation Only |
| 1 year PFS | 98% | 89% |
| 2 years PFS | 93% | 76% |
| 3 years PFS | 91% | 66% |
| Overall Response Rate | 48.9% | 0% |
Based on the results of this trial and the earlier work by Dr. Mateos, early intervention for patients with high-risk smoldering myeloma is recommended. High risk smoldering myeloma patients benefit the most from early treatment.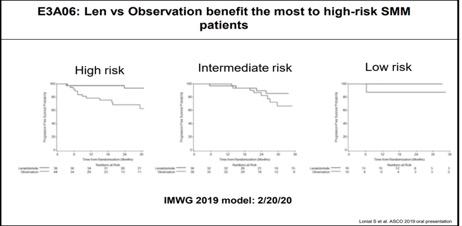 Study concerns included the fact that 51% patients discontinued lenalidomide due to toxicity and there was one treatment-related death reported. There was also an 11% rate of secondary cancers at 3 years in the lenalidomide arm compared to 4.8% in the observation arm. Most of these were non-melanoma skin cancers.
Choosing between a preventive vs a curative strategy
There are approximately 20 U.S. based smoldering myeloma clinical trials that are listed on www.SparkCures.com that are either designed to delay progression to active myeloma or cure the disease, meaning the patient will be disease free and treatment free.
Dr. Mateos suggested that this choice should be based on two type of smoldering myeloma genomics. This requires that the genetics of the smoldering myeloma are tested at diagnosis and on a continuing basis. (read more here)
Static Progression - If your original genetic clones expand and no new mutations develop, this is more aggressive and the curative strategy is a better choice. This means that the original clones can grow into active myeloma more quickly. Time to progression is usually less than one year.
Spontaneous Progression - If the smoldering myeloma clones change over time, more resistant clones can develop, but they take longer to develop into active myeloma and progress more slowly. In this case, the preventive strategy is a better choice.
Dr. Mateos concluded that genomic models can help identify patients who will benefit from preventive vs. curative strategies and the research is ongoing.