By Brian & Elise Martin
In June of 2017, I was diagnosed with active multiple myeloma (MM) after having been followed by the Dana Farber myeloma oncology team for MGUS/smoldering myeloma for 3 years. I was lucky to have been followed at Dana Farber for that time, after my primary care physician picked up abnormal monoclonal protein values in my routine bloodwork in 2013. I say "lucky" for two reasons – one, because I was able to begin treatment very early in disease progression, and two, because my older brother had been treated for the same disease by the same multiple myeloma oncologist since 2011, after being symptomatic but incorrectly diagnosed within his local medical network in Connecticut for at least a year and probably much longer. Sadly, my brother's disease was advanced by the time he began treatment at Dana Farber, and he died in 2015. But it was an awareness of his disease that alerted my primary care physician early on to the potential danger in my abnormal bloodwork and pointed me in the direction of Dana Farber. I often say that my brother "saved" my life – prior to his diagnosis, I had no awareness of the disease and perhaps my primary care physician, as good as he is, might have pursued other possible explanations for my abnormal bloodwork and delayed my connection to Dana Farber.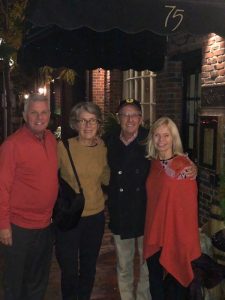 Needless to say, with only one frame of reference for myeloma, my deceased brother, the diagnosis of active disease was a crushing blow to both my wife and me. We had probably been living in denial for a few years; in retrospect, I had been increasingly tired and exhibiting other symptoms, such as shortness of breath upon exertion. But I attributed those symptoms to both my age and my extremely rewarding but also demanding job as principal of a large urban high school. I began my induction treatment – Velcade injection with Revlimid and Dexamethasone (RVD) – on the day of diagnosis; I had walked into DF that day, for the last time ever, with the "innocence" and sense of detachment that someone who has not been diagnosed with cancer is lucky enough to have. I walked out as a cancer patient.
My oncologist and nurse practitioner were extremely encouraging right from the start. They had treated my brother and no doubt understood the terror that their diagnosis planted in our hearts. I remember them both telling us about the patients they were currently treating who were longterm survivors. I also remember Dr. Munshi saying to me that he was putting me on the "20 year plan" – a reference to the far end of longterm survival rates beginning to emerge with new myeloma treatment advances.
My wife and I are also pretty positive people, and it didn't take us long to develop a positive approach to our new circumstances (and I say "our new circumstances" because cancer quickly and significantly impacts everyone within the patient's close circle). We cancelled our planned retirement trip to France (we had both planned to retire at the end of the month anyway) and my wife started reading, while I started having long conversations with myself. We had plenty of support from family and friends, but what we lacked was a frame of reference for fighting this disease. Our only experience with it had been my brother, and he had not done well. We needed a role model of sorts who could offer us something optimistic to hang onto – someone who was dealing with the disease and surviving – someone who could understand our new situation and offer us hope and maybe some of their own "survival strategies" that were steeped in reality, not cheery platitudes.
I had some very bad early experiences with my RVD induction therapy – I was an inpatient at Brigham and Women's Hospital (BWH) three times in 3 months for serious complications that included impacted heart, kidney and liver function. Every day, I had a visit from at least one, sometimes multiple members from the MM oncology team while the BWH medical team composed of cardiologist, nephrologist, gastroenterologist and oncologist, treated my acute issues. But again, I had no one who had ever had any kind of a similar experience to talk to, which made it hard to stay positive. For all I knew, I was the only myeloma patient who had ever had such problems, and I was on a quick collision course with death.
I'm happy to report that I am still here, feeling better than I had felt for probably 2-3 years before my diagnosis. I had a successful stem cell transplant in March 2018, and I am now on a maintenance/consolidation treatment plan that is keeping my myeloma at bay. I have resumed all my prior activities and interests and have added kayaking to a list of outdoor activities my wife and I enjoy together. We have actually replanned that European retirement trip for spring 2020. We both realize that the disease will at some point rear its ugly head again; we are hoping that time is later rather than sooner, but we have great confidence in our multiple myeloma team and I am doing my part to keep myself as healthy as possible for when that happens, figuring that I am likely to have a better shot of any treatment working if I am in otherwise good health and sturdy enough to handle that treatment.
This is why we are Myeloma Coaches…to be that voice of realistic optimism and offer some of our own survival strategies for others newly diagnosed, scared, and without access to other patients to talk to who have "been there."
To find a Myeloma Coach who can help you on your myeloma journey, click here: