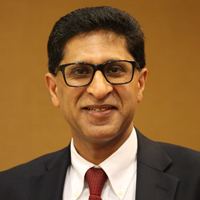 Our Next Show: A New CD-38 Targeted Monoclonal Antibody Isatuximab with Dr. Ravi Vij, MD, Washington University, Wednesday, February 6 @ 2 pm Central
Wednesday, February 6, 2019 @ Noon Pacific, 1 pm Mountain, 2 pm Central, 3 pm Eastern
Call In by Phone to Listen Live: (347) 637-2631 or Listen Live Via Computer.
A new monoclonal antibody called Isatuximab is advancing through clinical trials and is getting closer to FDA approval. This antibody targets CD38. Learn more from Dr. Ravi Vij of Washington University as he discusses the findings from recent clinical trials, how this drug will be used in the clinc and how it is different from other monoclonal antibodies previously approved. Dr. Vij was the senior author on the first Isatuximab paper published in Blood and has been involved in several of its clinical trials to date.
Dr. Ravi Vij is Associate Professor of Medicine at the Washington School of Medicine in the Bone Marrow Transplant section. He received his medical degree in India and did follow-up training and residency at Rush-Presbyterian St. Luke's Medical Center in Chicago and fellowships in Oncology and Bone Marrow Transplantation with Stem Cell Biology at Washington University.
He's a member of ASCO, ASH, the St. Louis Society of Clinical Oncology, and the American Association for the Advancement of Science. He serves on numerous national committees including the Myeloma, Transplant, Leukemia Committees of the Alliance for Clinical Trials in Oncology and the Steering Committee of the MMRC. His honors include the Multiple Myeloma Research Foundation Innovator Award in 2013 and the MMRC Center of Excellence Award.
He's the author of over 100 peer-reviewed publications, as well as a book called Contemporary Management of Multiple Myeloma, and several book chapters. He served as a reviewer for several journals, including Blood, Journal of Clinical Oncology, Bone Marrow Transplantation, Experimental Hematology, and Haematologica.
His primary academic interests include the treatment of myeloma and stem cell transplantation for hematologic malignancies. He leads many clinical trials and has established a large myeloma tissue bank at Washington University with a strong institutional focus on studying the genomics of the disease, which are really critical to understanding what causes myeloma and how we cure myeloma.
About the Author