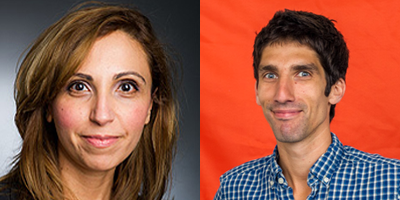 Our Next Show: Liquid Biopsies with Irene Ghobrial, MD and Salomon Manier, MD, PhD, Dana Farber, Wednesday, Sept 27 @ Noon EST
Wednesday, Sept 27, 2017 @ 9 am Pacific, 10 am Mountain, 11 am Central, Noon EasternCall In by Phone to Listen Live: (347) 637-2631 or Listen Live Via ComputerMyeloma patients can't wait until blood-based "liquid biopsies" replace the dreaded bone marrow biopsy. Painful and intrusive, the bone marrow biopsy is today's "standard" of myeloma testing to determine levels of myeloma disease burden in patients. These biopsies need to be performed at diagnosis, relapse and repeated every so often to determine response to treatment and the genetics of myeloma. Researchers at the Dana Farber Cancer Institute and the Harvard School of Medicine are creating a blood-based test that could provide easier measurements of disease burden. This would lighten the load for myeloma patients while still giving the needed information to measure disease progression and response to therapy. Learn more in this compelling show.
Dr. Irene Ghobrial is Associate Professor of Medicine at the Harvard Medical School and Director of the Clinical Investigator Research Program at the Dana Farber Cancer Institute. She is Co-Director of the Center for the Prevention of Progression of Blood Cancers which has a focus on early precursor conditions like MGUS and smoldering myeloma and is also the Co-Director of the Blood Cancer Research Partnership. She is Chair of the Egypt/US/EU Joint Collaboration Initiative Meeting and Co-Chair of the European Society of Hematology Multiple Myeloma Meeting. Dr. Ghobrial serves on many national boards including the City of Hope Scientific Advisory Board, Medical/Scientific Affairs committee for the Leukemia and Lymphoma society and is on the Scientific Advisory Board of the Myeloma Crowd Research Initiative. She is a chair of the ASCO scientific committee and Chair, Scientific Committee on Plasma Cell Neoplasia for ASH. She is an ad hoc reviewer for over 32 major blood cancer publications and is a member of the editorial boards of Blood, Clinical Cancer Research, BBA Clinical and Plasma Cell Dycracias. Her most recent awards include the 2015 Women in Medicine Award from the Whitetulip Health Foundation and the 2017 Ken Anderson Young Investigator Award from the International Myeloma Society. Dr. Salomon Manier is an Instructor in Medicine at the Dana-Farber Cancer Institute. He received his MD from the University of Paris, France and his PhD from the Université de Lille in France. Dr. Manier is focused on the creation of these liquid biopsy tests and the genomic and epigenomic dysregulation in multiple myeloma. He received a grant from the ARC Foundation for his work as well as the ASH Abstract Achievement Award in both 2012 and 2013. Thanks to our episode sponsor, Takeda Oncology.

About the Author