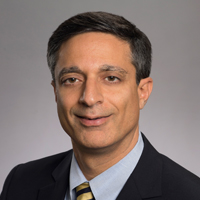 Our Next Show: ASCO and EHA Myeloma Meeting Updates with Sagar Lonial, MD, Winship Cancer Institute, Wednesday, July 19 @ 2 pm Eastern
Wednesday, July 19, 2017 @ 11 am Pacific, Noon Mountain, 1 pm Central, 2 pm EasternCall In by Phone to Listen Live: (347) 637-2631 or Listen Live Via ComputerThe recent meetings of the American Society of Clinical Oncology (ASCO) and the European Hematology Association (EHA) occurred recently in May and June. There are a wealth of updates on up-and-coming therapies, use of combinations to improve outcomes, strategies to reduce side effects and much more from myeloma specialists across the world. Dr. Sagar Lonial will join us to share an overview of the major themes in myeloma advances from his leading-edge perspective.
Dr. Sagar Lonial is an internationally recognized as a leading authority in multiple myeloma treatment and research. A Board certified hematologist and medical oncologist, Dr. Lonial staffs and works both on the transplant service as well as in the B-cell malignancy clinic. Dr. Lonial is involved in numerous professional organizations including the American Society of Clinical Oncology, American Society of Hematology, and the American Society for Blood and Marrow Transplantation. He serves as Vice Chair of the Myeloma Committee in the Eastern Cooperative Oncology Group and as Chair of the Steering Committee for the Multiple Myeloma Research Consortium. Additionally, he is on the board of directors for the International Myeloma Society, and on the scientific Advisory Board for the International Myeloma Foundation. He is a member of the Discovery and Developmental Therapeutics Research Program at Winship Cancer Institute of Emory University. Thanks to our episode sponsor, Takeda Oncology.

About the Author