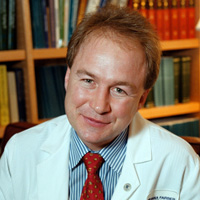 Our Next Show: Mid-Year Multiple Myeloma Update with Paul Richardson, MD, Dana Farber Cancer Institute
Friday, August 3, 2018 @ 8 am Pacific, 9 am Mountain, 10 am Central, 11 am Eastern

Call In by Phone to Listen Live: (347) 637-2631 or Listen Live Via Computer
The myeloma landscape is rapidly changing with many new advancements. Paul Richardson, MD of the Dana Farber Cancer Institute joins Myeloma Crowd Radio to share recent updates from major summer meetings including the American Society of Clinical Oncology and European Hematology Association meeting and several others. Learn about how CAR T cell therapy and other new therapies are impacting myeloma care, how imaging is being used to determine risk, what we've learned about monoclonal antibody use and more.

Dr. Paul Richardson is the Clinical Program Leader and Director of Clinical Research of the Jerome Lipper Multiple Myeloma Center. Dr. Richardson is the RJ Corman Professor of Medicine at the Harvard Medical School.
Dr. Richardson holds leadership positions in many professional organizations and is on the Editorial Board of the Journal of Clinical Oncology, Journal of Oncology, The Oncologist, Clinical Cancer Research, and British Journal of Hematology. He is the prior Chairman of the MMRC and serves on the Steering Committees and he now chairs the newly formed Multiple Myeloma Committee for the Alliance for Clinical Trials in Oncology.
His honors include many awards from Massachusetts General Hospital, Brigham and Women's Hospital, and Dana-Farber Partners in Excellence Awards; The Brigham and Woman's Hospital Teaching Scholar Award; The Tisch Outstanding Achievement Award for Clinical Research; and the Dana-Farber Cancer Institute's George Canellos Award for Excellence in Clinical Research and Patient Care. He also was awarded primarily for myeloma work, an honorary Fellowship of the Royal College of Physicians in 2009, and he was the recipient of a Warren Alpert Prize in 2012.
Dr. Richardson has published more than 260 original, as author or co-author, articles and more than 180 reviews, chapters, and editorials in learning peer-reviewed journals such as the New England Journal of Medicine, Blood, the Journal of Clinical Oncology, Leukemia and many more. He is a key contributor in constructing and implementing clinical trials both early and later stage. His primary research interest is in new therapies, and he was a leader in the clinical development of bortezomib, lenalidomide and pomalidomide.
About the Author